ABOUT TELEMEDICINE SOCIETY OF INDIA
On March 24th, 2000, Bill Clinton, the then US president, commissioned the world's first VSAT enabled village hospital at Aragonda in Chittoor District of Andhra Pradesh, marking the formal introduction of telehealth services in India.
The Telemedicine Society of India was formally established in the year 2006 in Lucknow. The idea to setup a scientific society which would be dedicated to Telemedicine at a national level was thought out by the participants of the National Conference on Telemedicine held at Lucknow in 2001. The participants of this conference signed a resolution and were inducted as the founding members. 
In the following year the 1st annual conference of the society was held in Lucknow. Subsequently, seven more conferences were held at various locations throughout India, the most recent at Bhopal in 2014.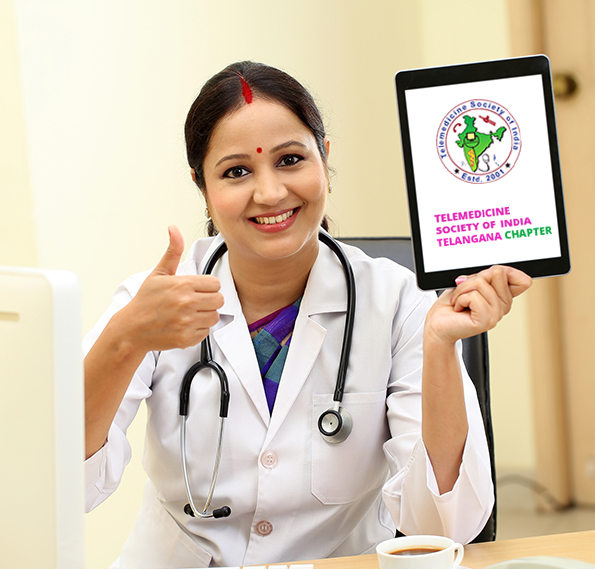 Telemedicine is the use of electronic information to communicate technologies to provide and support healthcare when distance separates the participants.
"Tele" is a Greek word meaning "distance" and "mederi" is a Latin word meaning "to heal". Although initially considered "futuristic" and "experimental," telemedicine is today a reality and has come to stay. Telemedicine has a variety of applications in patient care, education, research, administration and public health. Worldwide, people living in rural and remote areas struggle to access timely, good-quality specialty medical care. Residents of these areas often have substandard access to specialty healthcare, primarily because specialist physicians are more likely to be located in areas of concentrated urban population. Telemedicine has the potential to bridge this distance and facilitate healthcare in these remote areas.
India's rural-urban divide in terms of accessibility to healthcare facilities is widely known. Rural areas that are home to over 60% of the population have access to less than 30% of the doctors. In fact, estimates by the National Health Mission (NHM) say that the doctor-patient ratio in rural areas is six times lower than in urban areas. Official figures suggest that there is a whopping 82% shortage of specialists in Community Healthcare Centres (CHCs). Given this huge void, healthcare providers and social entrepreneurs in India have already gauged the potential of telehealth services to grow in under-served areas.
Today, telemedicine has emerged as a viable tool in the hands of healthcare providers and governments to improve accessibility, provide remote care, and help in achieving Universal Healthcare. According to market research, the global telemedicine market is expected to grow to around USD 20 billion by 2026. India's telemedicine market too is growing at a rapid pace as more and more healthcare organizations start looking at telemedicine as a workable solution to address geographical disparities in the availability of healthcare services.